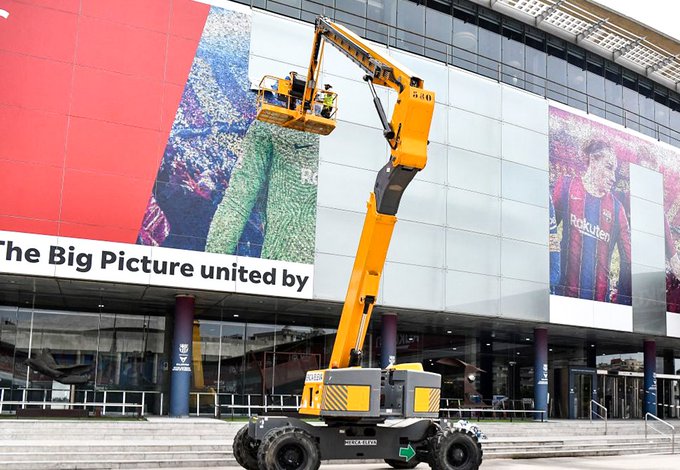 Lionel Messi posters are already being TORN DOWN at the Camp Nou, As the
Argentine closes in on a free transfer to Paris Saint-Germain.
Barcelona announced on Thursday that they could not keep their greatest player
because he wasn't able to fit in a new contract within the Spanish league's financial
fair-play regulations.
Messi spent nearly two decades with the Catalan club since making his first-team
debut as a 17-year-old in 2004.
He played 17 seasons winning the Champions League four times, the Spanish league
10 times, the Copa del Rey seven times, and the Spanish Super Cup eight times.
Messi leaves Barcelona as the all-time leading scorer with 672 goals.
Read Also: Lionel Messi finally agrees on PSG transfer on a two-year deal worth £30m 
Messi took center stage in a large image of multiple Barcelona stars including
goalkeeper Marc-Andre Ter-Stegen, Gerard Pique, and Antoine Griezmann, but
construction workers took down the strips showing Messi's face.
The entire poster on the side of Barcelona's 99,000-seater stadium has been removed
following Messi's departure, while club officials were also seen taking down smaller,
street-side posters with Argentina's face on it.
An emotional Messi broke down in tears at a farewell press conference and called for
'humility and respect' from the club after he left.
'I tried to behave with humility and respect and I hope that is what remains of me
when I leave the club.'  Messi also revealed how much he was willing to sacrifice in
order to stay in Barcelona.
The Catalans agreed on a new contract with the Argentine over the summer but the
the club was unable to get the deal approved by LaLiga due to Barcelona's financial
problems.
He said: 'I took a 50 percent wage cut and we had closed the deal. The club did not
ask anything else from me. They did not ask me to take a further 30 percent cut,
that's a lie. We did everything possible.
Honestly, when the elections happened (in March), I spoke with (club president Joan
Laporta), we had dinner and after that, I was convinced I would be staying,' he said.
'My contract was never the issue… What I know is that I did everything I could.
The club says it could not happen because of LaLiga.
'I can guarantee you that I did everything I could to stay. Last year I didn't want to
and I said that, but this year it was different.'
http://nationalsportslink.com.ng